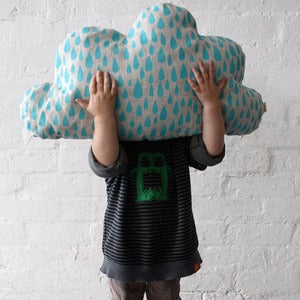 $

100.00
You will love our cloud shaped cushion - it will bring a smile to your face even on rainy days!
Great as a kids cuddly toy, a feature on a child's bed or even as a throw on the couch.
The cloud cushion features our totem collection raindrop design and is hand screen printed in Melbourne by Harvest Textiles at Harvest Workroom using 100% natural linen.
Filled with 100% recycled PET water bottle stuffing and hand sewn by our very own clever local sewing lady!
Approximate dimensions of cushion are 63cm x 30cm.
PLEASE NOTE WE ARE OUT OF ALL STOCK ON HAND FOR THIS PRODUCT AND SO THIS ITEM WILL BE SOLD ON A PRE-ORDER BASIS. PLEASE ALLOW UP TO 4 WEEKS FOR TURNAROUND AS WE PRINT AND MAKE TO ORDER.
Handmade with love and care in Melbourne, Australia at Harvest Workroom by Harvest Textiles.
Designed by Jess Wright, Emma Byrnes and Lara Davies.
Price in Australian Dollars.
Pattern will remain the property of Harvest Textiles and should not be reproduced in any way.
© 2012 Harvest Textiles
For more info on this product contact us by email info@harvesttextiles.com.au