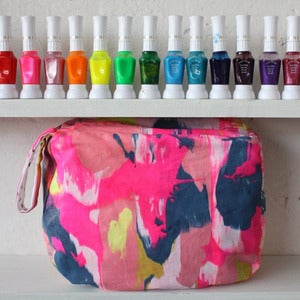 $

40.00
These all-purpose bags could really have a zillion uses - purse, make up bag, travel pouch, clutch bag or to just brighten up your bathroom counter!
They are made from hand printed organic cotton and have a super useful handle.
Due to the printing process each bag is unique but we will make every effort to maintain the colour pallette that you see in the photo - it will be bright, neon and generally awesome!
They come in three sizes - S, M & L.
The small bag measures 18cm wide, 14cm high and 7cm deep. The medium bag 23cm wide, 15cm high and 8cm. The large bag measure 27cm wide, 21cm high and 10cm deep.
PLEASE ALLOW UP TO 3 WEEKS FOR TURNAROUND AS WE PRINT AND MAKE TO ORDER.
Handmade with love and care in Melbourne, Australia at Harvest Workroom by Harvest Textiles.
Designed by Jess Wright