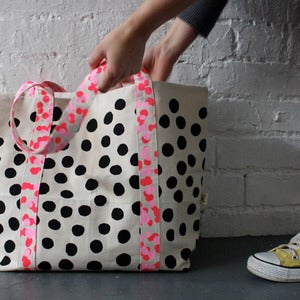 $

150.00
This is a big roomy tote made from handprinted canvas and lined with hand printed organic cotton. It features hand printed canvas straps and a handy inside pocket to store your goodies!
Bag measures 50cm at the widest point and is 40cm high.
Handmade with love and care in Melbourne, Australia at Harvest Workroom by Harvest Textiles.
PLEASE ALLOW UP TO 3 WEEKS FOR TURNAROUND AS WE PRINT AND MAKE TO ORDER.
Designed by Jess Wright.